Discover Your Past

Condon, Kleckner, Gilles, Ethen, Milton, Meyer, Mitchell, and Liston Family History
Death: Peter Ethen 27 April 1809
Décés
L'an mil huit cent neuf le vingt Sept Avril a deux heures de L' après midi pardevant Moi Charles Francois Pfeiffer Maire et Officier public de L'état civil de la Commune de bullenge Sont comparu le Sieur Jacques Deremoichamps Desservant de Murrenge, et Nicolas Girten agé de cinquante Six ans cultivateur, demeurant à bullenge, Lesquels m'ont declaré qu'aujourd'hui vingt Sept Avril à neuf heures du matin est décédé à Murrenge Pierre Ethen in Son vivant Cultivateur né a Murrenge agé de Soixante Six ans Veuf de Gertrude Fraucron, et ont Signi les Declarans après lecture faite.
Death
1809 27 April at two in the afternoon before me Charles Francois Pfeiffer Mayor and Public Officer of Vital Records for the Bullenge Community appeared Mr. Jacques Deremoichamps serving in Murrenge and Nicolas Girten aged fifty-six years, farmer residing in Bullenge, who have declared that today 27 April at nine in the morning, deceased today at nine in the morning in his home, was Pierre Ethen born in Murrenge, a farmer, aged 66, widower of Gertrude Fraucron. And the declarer, have signed after the reading was done.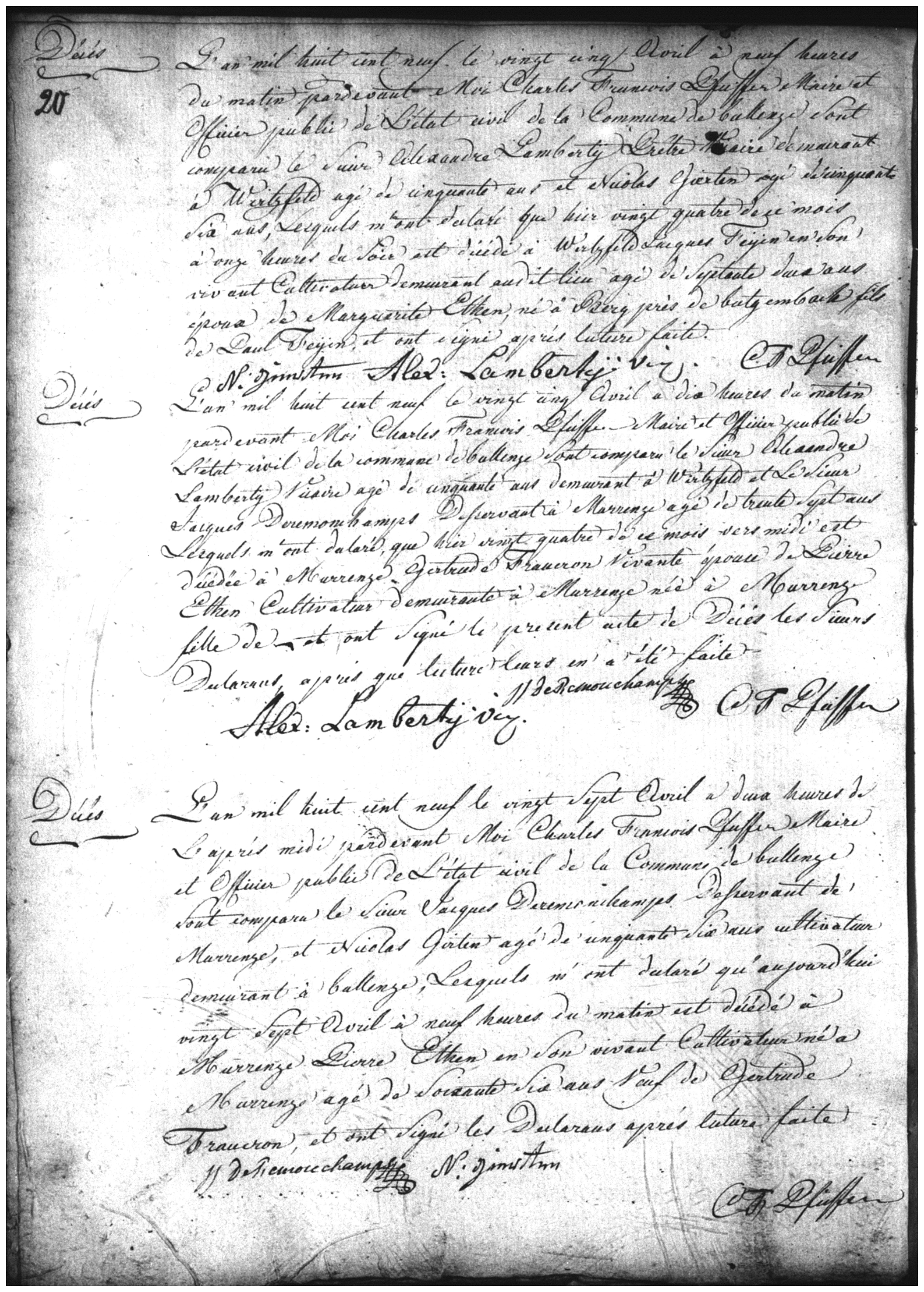 ---
© 1999-2013 Steven M. Condon. All Rights Reserved.